*Click on the pictures to see the whole photo. Apparently I need to learn to reformat pictures.*
One thing friends, family, and others who may have had their own children referred for follow-up screens wants to know is simply "what is like?". We promised we'd take photos and video footage of the process, and we've done just that. When you go through the movies, please remember that this is my fifth child and I'm still only 3 weeks post partum. I promise those extra three chins I'm carrying will go away eventually. :) (They will go away...right?)
This is what the ABR (auditory brainstem response) test looks like. The baby sleeps through the whole thing. Tiny receptors are placed on the baby's head and then a small tube pumps sound into the baby's ear at various frequencies and volumes. The test records the brain's response to auditory stimulation. This is a totally painless test. As the child gets older, it sometimes becomes necessary to give the child medication to help him stay asleep through the test. Under about six months, though, most babies sleep through it without the aid of medications.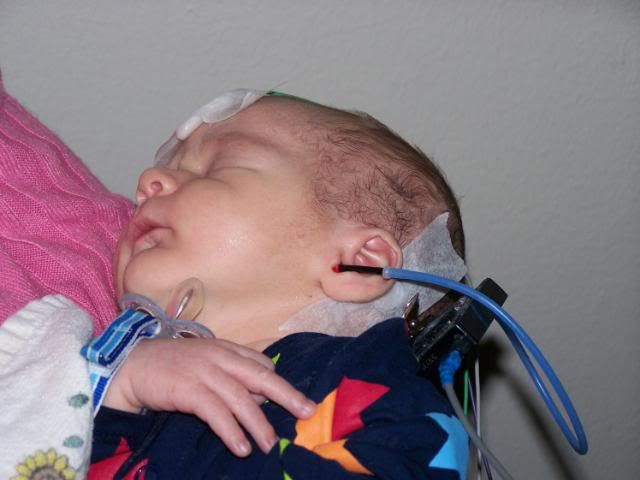 This is what it looks like while impressions are being made for earmolds. In order to insure that little or no feedback occurs, the earmold needs to fit the inside of each individual ear perfectly. So, the audiologist will make impressions of the inside of the ear to send off to the molding company. Babies grow rapidly, so it's expected that a baby will go through several sets of earmolds in his first couple of years.
After the earmolds arrive, the tubing needs to be trimmed to fit the baby's ear just right. This is what the tubing may look like to start with. The earmolds in this picture are just temporary until Little Guy's real molds come in sometime next week.